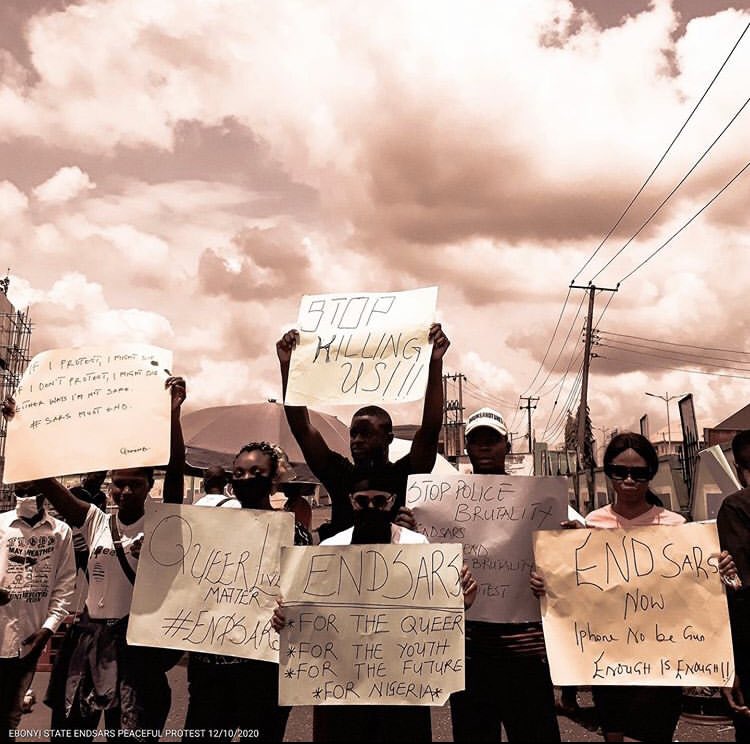 The #EndSARS movement is for everyone.
The #EndSARS movement has been on for over a week now. Everyday, it keeps trending, and despite the fact that the hashtag is no longer the same on Twitter, it is still gaining international media attention, as it should.
Following the trending hashtags, one stands out. The #Queerlivesmatter hashtag which both allies and queer people add to their tweets. The hashtag is also written boldly on placards and taken to the protests ground.
Days ago, pictures of Matthew Blaise trended on Twitter. He was seen holding a placard that read "Why do I get beaten up for being femme and perceived gay? #QUEERLIVES MATTER #ENDSARS"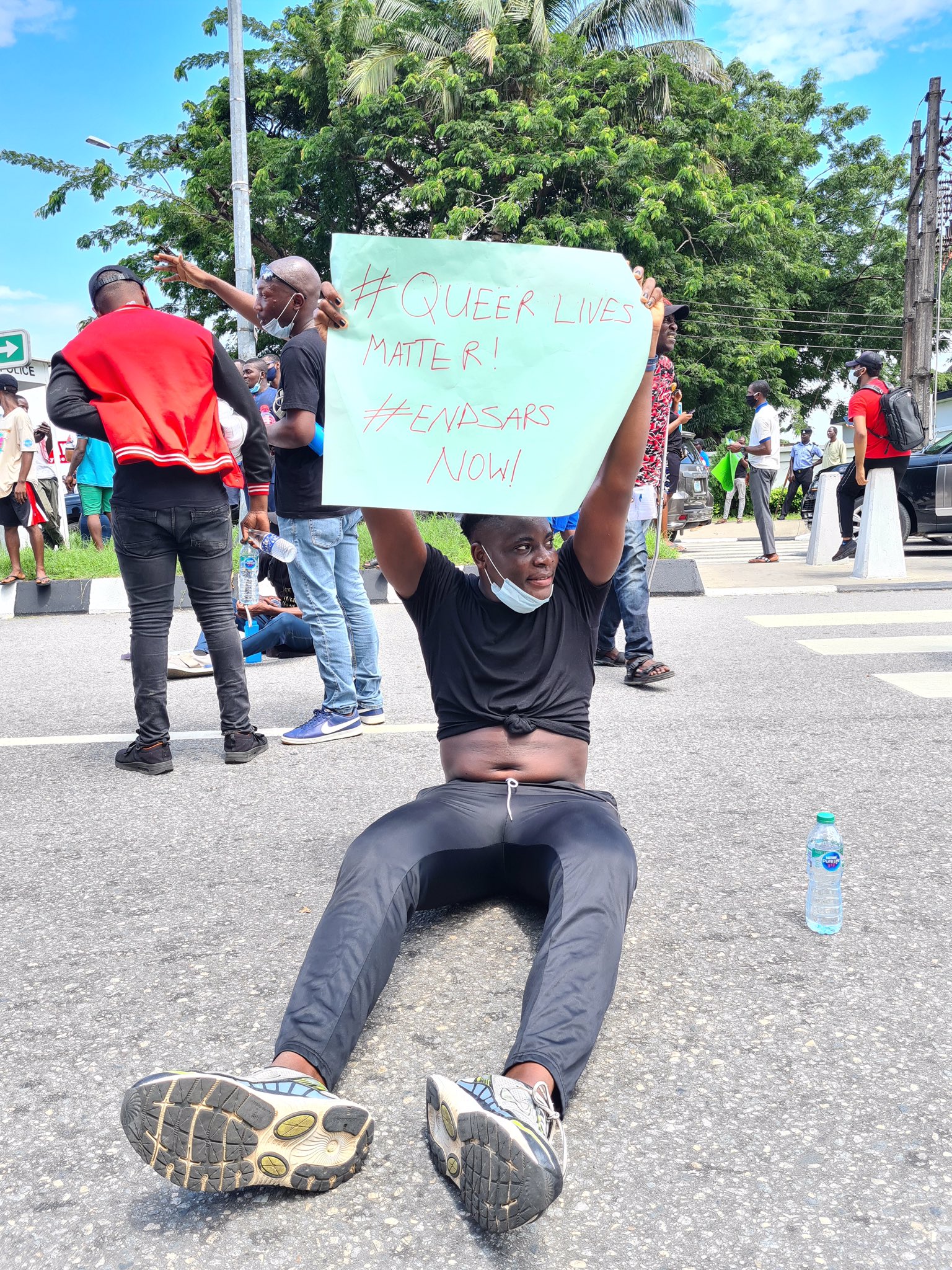 and a video was also uploaded. The video saw Matthew shouting "Queer Lives Matter." on the street, with other protesters behind him.
Yell it in your streets. We get killed for being queer. It's crazy pic.twitter.com/KIGaaGbKk7

— Son of the Rainbow AKA LGBTQ+ CLASS CAPTAIN?️‍? (@Blaise_21) October 10, 2020
This brought a movement offline, with queer Nigerians and allies protesting with placards that has the hashtag Queer Lives Matter, and refusing to be silenced.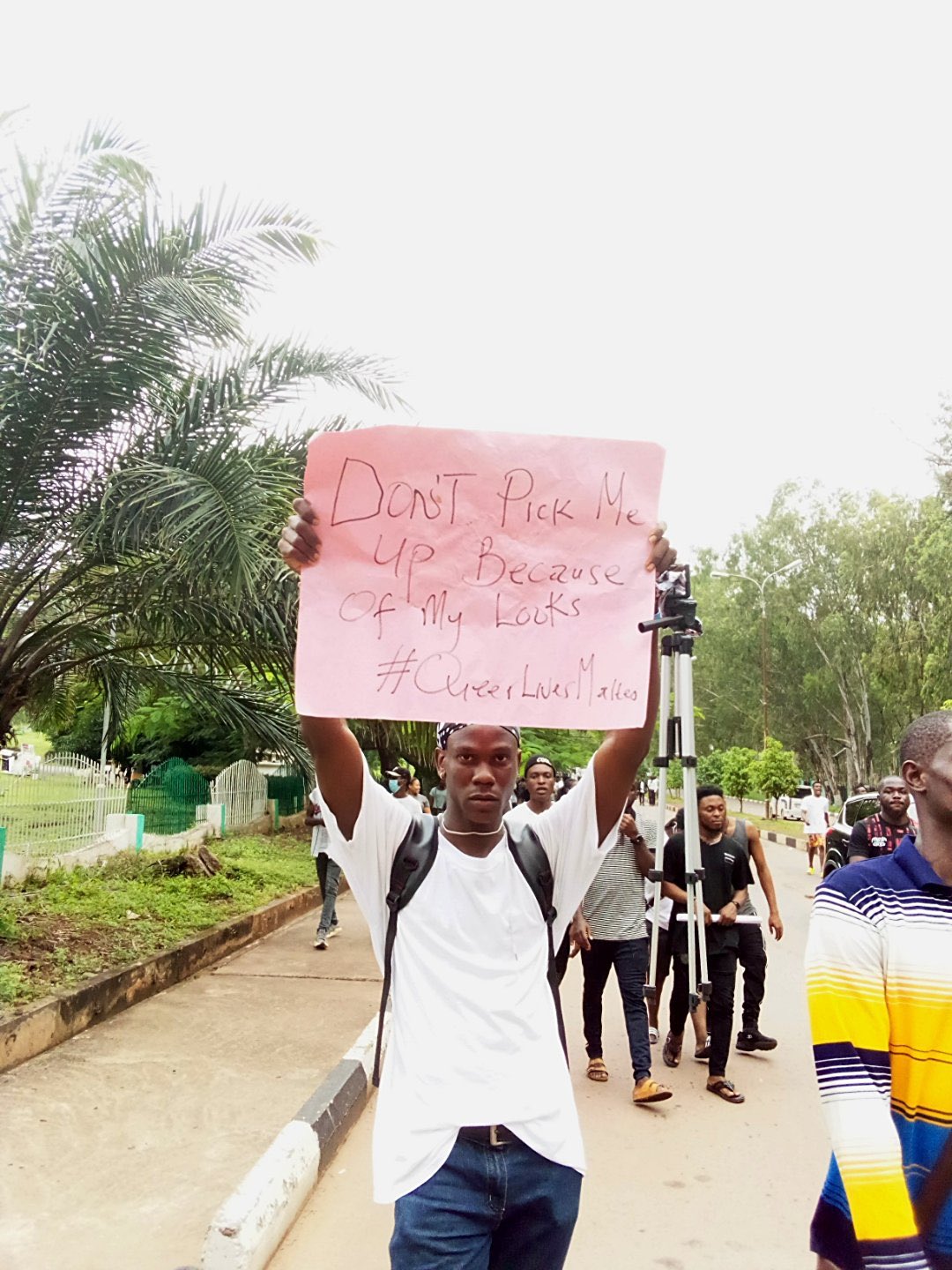 Taking to Instagram, Uyaiedu Ikpe-Etim, writer and filmmaker posted pictures of her holding an "ENDSARSNOW #QUEERLIVESMATTER" placard, with a caption that reads:
"Just to be clear – I didn't walk and march under the scorching sun for you cisgendered men; so stop messaging me to say, this is not the fight. This is my own fight. I'm fighting for Queer lives and for women because we get harassed by SARS for completely different reasons.
My femme friends are harassed simply for being femme. A SARS official has harassed my friends and I, simply because I told him he couldn't sit in my laps.
So, please miss me with that nonsense. I'm here for Queers and for women. Because if the tables were turned, many of you won't come out for us.

It is a sad reality that people get detained for "looking" queer and are treated like they have no rights.
Speaking with Amarachi—not real name, they recount their ordeal at the hands of SARS.
"I was harassed on October 2018, on my way to a show in Lagos, Nigeria. I was in the Uber, when we got stopped by a group of SARS officials. One of them wanted to search my phone, but I refused. I know my rights, and I read it out to them. I also added that I knew someone influential so that they'd leave me alone, but they just left my phone and began to focus on my looks.
From the visible tattoo on my neck, to the way I was dressing—I am a masc woman. They started asking if I was a man or woman. When I didn't reply, they proceeded to touch my breasts which they claimed I was hiding under my baggy shirt. I have never felt that angry before in my life. There are other things they did to me, to be "sure" I wasn't a man, and the things they said too. I remember how one of them called me a lesbian with disgust all over his face, and how the others laughed. How they said that they would love to have sex with me, so that I can start liking men because 'I hate men for being masc presenting.' It was dehumanizing."
The harassment of queer Nigerians by the police is hardly spoken of. From the dehumanization, to the extortion, the blackmail, and also getting outed to families,
Even at the protests ground, cishet heterosexuals still find the time to oppress queer individuals; a case of the oppressed being the oppressors. In a video uploaded by Amara, she recounts how other protesters turned on them because of a rainbow flag. It wasn't surprising to see a lot of people trying to make excuses for the harassers, with words like: "it is not the time to talk about it, you people are hijacking it," "one problem at a time," "stop with the agenda and victim mentality," and then they swear that they are not homophobic but are just trying to centre on the movement and not to lose focus.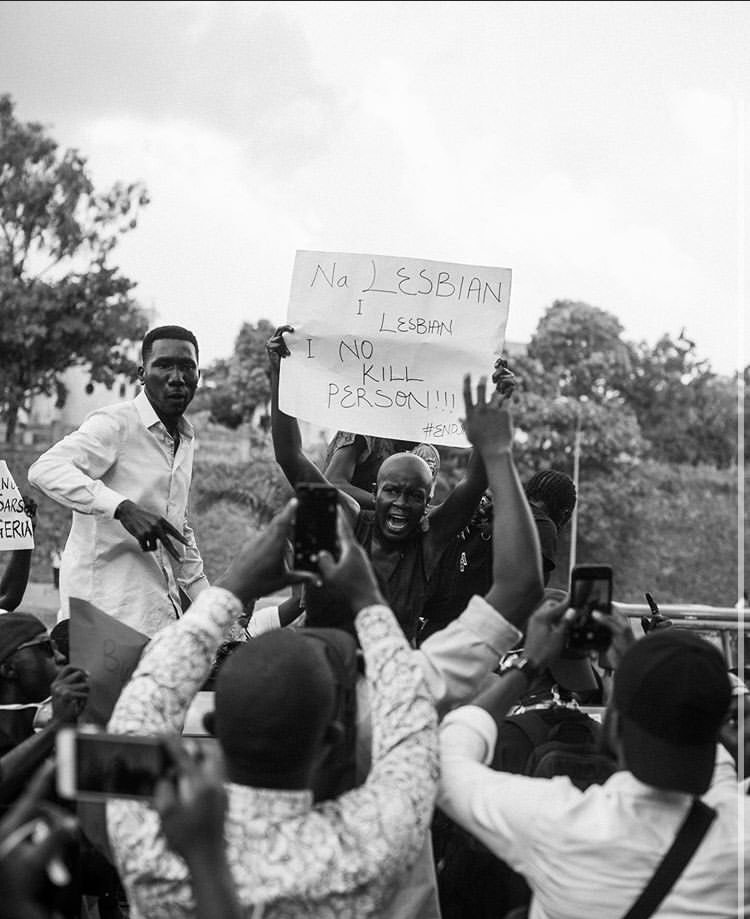 When queer people talk about the ways they also face brutality, it is considered an agenda or a way to hijack a movement that is for everyone. It goes without saying that queer lives are not political, and queer rights? Definitely not an agenda. The country is for every single person, and one's human rights shouldn't be violated because of their sexuality/gender identity.
To donate to the #EndSars movement, click here.